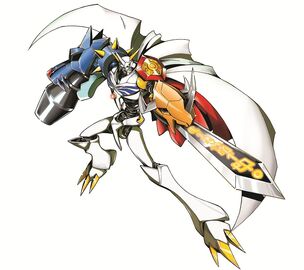 Omnimon is a Warrior Digimon whose Japanese name is derived from "I am the Alpha and the Omega", and whose English name is derived from "Omni". One of the "Royal Knights", it was fused from the Virus Busters WarGreymon and MetalGarurumon due to the powerful wills of everyone who wished for goodness. It is a Digimon who has combined the special qualities of two bodies, so it is a multitype warrior which can fully demonstrate those abilities, for any given situation. It is equipped with the "Grey Sword" and "Brave Shield Omega" for its WarGreymon-shaped left arm, and the "Garuru Cannon" and missiles for its MetalGarurumon-shaped right arm. As for the mantle on its back, it is automatically deployed when it dodges an opponent's attack, or when it is flying. It bears the Crest of Courage on the Brave Shield Omega, and a combined symbol of the Crests of Courage and Friendship on its chest. The DigiCode on its Grey Sword reads
Digimon Adventures
Edit
Omnimon is a Mega Digimon who is the result of WarGreymon and MetalGarurumon DNA digivolving. His right MetalGarurumon hand holds the "Garuru Cannon" and his left WarGreymon hand conceals the "Grey Sword", while his left arm also has the "Brave Shield Omega".
When Diaboromon threatens the world with a nuclear strike, WarGreymon and MetalGarurumon combine together with the power of all those who are watching their fight through the internet. Omnimon quickly clears the Diaboromon clones and takes out the true Diaboromon, which holds the timer for the nuclear missiles. Our War Game! These events are referenced when Ryo Akiyama is called upon to take care of a rogue Diaboromon copy as well as brought up by Koushiro "Izzy" Izumi when the new DigiDestined discover the ability to DNA digivolve as well.
When Diaboromon returns, Omnimon reforms in the net and takes out Diaboromon with the help of Angemon and Angewomon. Unfortunately, this is all his plan to split into Kuramon who escape into the Real World and merge into a giant Armageddemon. Armageddeon proves to be a too powerful foe for Omnimon and Imperialdramon Fighter Mode. At their most desperate, Omnimon gives his power to Imperialdramon so that he can digivolve to his Paladin Mode and defeat Armageddemon once and for all.
When the Old Clock Shop Man summons the heroes of the past to Fusion universe to help take down Quartzmon, WarGreymon and MetalGarurumon DNA digivolve to fight an army of copies of Myotismon, VenomMyotismon, and MaloMyotismon, and is mistaken for a DigiXros by Zenjirou Tsurugi. A Great Legendary Hero Gathering! The Digimon All-star Showdown!! Omnimon and Tai then give their power to Tagiru Akashi and Arresterdramon so they can retrieve the Brave Snatcher and defeat Quartzmon once and for all.
Community content is available under
CC-BY-SA
unless otherwise noted.