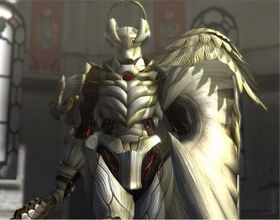 The Alto Angelos (Italian for "High Angels" or "Archangels") are angelic-looking knights with demonic powers and angelic appearance through the Ascension Ceremony and they are actually the transformed Holy Knights (Knights of the Order), religious soldiers and elite enforcers of the Order of the Sword, a militant faith whose sole purpose is to eradicate all that is evil in the name of Sparda. They are followed by Bianco Angelos at their command.
Community content is available under
CC-BY-SA
unless otherwise noted.